Best CBD Vape Juice
1. Knockout CBD Vape Juice
Knockout CBD is a relatively new addition to the CBD industry. They offer a range of CBD hemp-based products. Today we will be reviewing their CBD vape juice flavors, but they also offer CBD oil, CBD cartridges, CBD pods, capsules and gummies and flower.
All of their products are lab-tested for potency, which is on point. Their CBD e-liquid is isolate-based, so they're THC-free, but you could also consider them broad spectrum because they contain trace amounts of CBDv (another non-psychoactive cannabinoid). I would like to see more thorough testing for pesticides, solvents, contaminants, etc. but at least the CBD content is accurately labeled.
2.Hemplucid Vape 
Focussing on their CBD Vape oil, they offer a full spectrum CBD 100% organic with a sweet natural hemp flavor that can be either mixed with our favorite vaping e-liquids or directly vaped. 
If you're new to vaping CBD we highly recommend you to start with the lowest amount and gradually increase it until you find the concentration that suits you better.
Their CBD vape Oils contain  less than 0.3% of THC what makes them totally legal in all states.
3. KOI CBD 
KOI Is well known for making good quality natural CBD products as oils and edibles and has now started to produce CBD Vape Juices.
Contain 100% Organic CBD with full traceability following the Koi Standard, mixed with natural flavor additives,Food Grade Vegetable Glycerin and Propylene Glycol.


All of them can be either used to fill the vape tank or mix it with our favorite E-Juice.
All of the different juices available contain 0% THC
Sol CBD is third-party laboratory tested and uses vegetable glycerin as a base. This means that Sol CBD is safe to consume and is appropriate for those seeking relief from higher CBD doseages.
While this product is one of the best on the market, it certainly isn't cheap. Sol CBD runs for nearly $80 per 30 ml bottle. However, those concerned with getting the most health benefit from their CBD may appreciate this full-extract option.
Why Vape CBD Vape juice ?
Vaping is one of the best and most efficient way to consuming CBD due to its rapid absorption by our body.
The amount of CBD that enters your systemic circulation system in your body after consuming it is called bioavailability. 
Edibles and oral drops has only 15% bioavailability which a really small number. For example if you consume 100mg of CBD we'll only be synthesizing 15 mg.
When vaporizing CBD, it enters directly to your lungs and diffuses into the bloodstream. This increases the bioavailabilty to at least 50-60%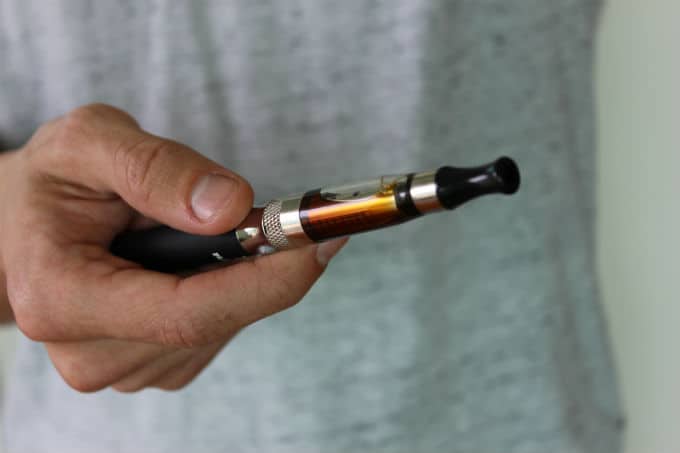 CBD by itself is considered a safe and non-toxic substance. Researcher suggests that CBD is well-tolerated, even at high doses.
Avoiding products that contain potentially carcinogenic additives will help you stay safe with CBD vape oil. Here are a few things to keep in mind:
Avoid added artificial flavorings
Artificial flavorings. A Harvard study published in 2015 found that 75 percent of artificial flavorings used in e-liquids contain compounds that can cause "popcorn lung".
Popcorn lung is more formally known as bronchiolitis obliterans and it causes damage to the small airways in the lungs. The condition can cause coughing, wheezing, and shortness of breath.
The triggering compounds in question are diacetyl, 2,3-pentanedione, and acetoin. They are often present in candy-flavored e-cigs and can be incorporated into other artificial flavorings.
Hoping to play it safe? Opt for CBD vape oils that are flavored with natural terpenes.
Tips For Buying CBD Liquid
CBD is more popular than ever. Yet, with all of the different products out there, it can be difficult to find products that are safe and made with high-quality ingredients. To make sure you're getting a good buy, here are a few things to keep in mind.
1. Always buy from brands with full ingredient lists
2. Opt for liquids that have been third-party lab tested
3. Pay attention to source